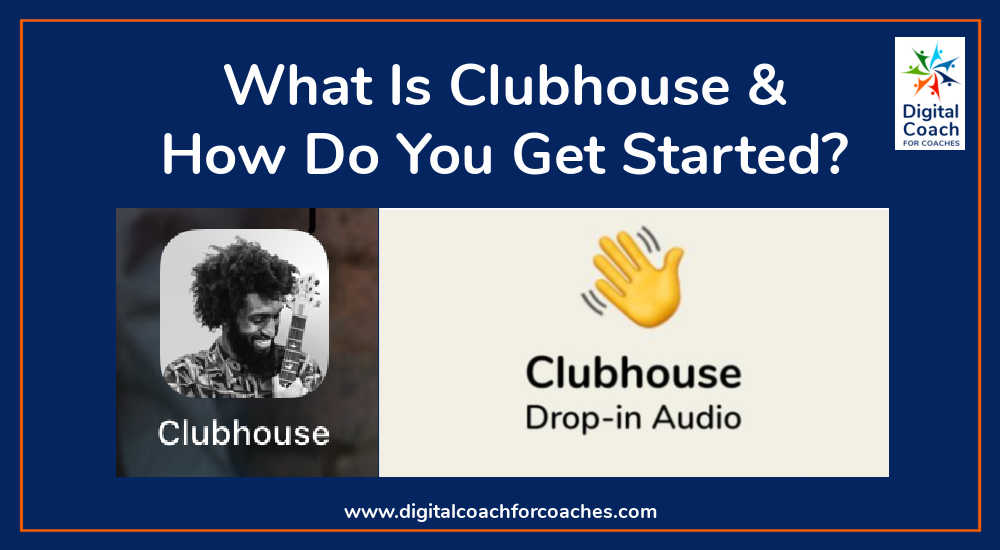 There is a new phone app in town that's creating a quite a stir in the social media world. So what is clubhouse, should you be on it and if yes, how do you get started?
Clubhouse is an 'invite only' drop-in audio community app which was initally only available to Apple users (iOS 13 & above) but more recently started rolling out to Android users as well.
It was developed in early 2020 but really started to gain traction in December 2020 when it reached around 600,000 users. Since then it has exploded to an estimated 10 million weekly active users.
Who is Clubhouse for?
Like all social media platforms Clubhouse provides you with the ability to network, follow people and build a following of your own.
Once you join, as a member you get access to:
Clubs – Interest-based groups, set up by a member, that other members can request to join
Rooms – real time chat rooms, run either by an individual member or a group of members.
A room can also fall under the umbrella of a Club
So who is it for?
Personal Use

If you want to listen to and chat with like-minded people and learn more about specific subjects the simple answer is yes.  There are rooms about almost anything –  Arts, Advertising, Parenting, Property, Sports & Entertainment, the list goes on!
Business Use

Many businesses often ask the question "Which social media platforms should I be using?"  Infact it is better to reframe this as "Which social media platforms are my target audience using?"
Clubhouse is for anyone representing a business who would like to network and build relationships with people who are using Clubhouse, if those people fall within their target audience.  So you won't really know unless you jump into Clubhouse and test it.
How do you join Clubhouse?
Clubhouse is currently invite-only.
If you have an iphone or Apple device with iOS 13 or an Android 8.0 installed or later, (though Clubhouse recommend Android 11 for the best performance) first of all, follow these simple steps:
Go to the App Store and download the App by Alpha Exploration Co. (It usually features a black & white headshot photo, which does changes from time to time)

Set up an account and reserve your @username

Wait a while as you may be lucky and get let in by someone you know, who has your mobile phone number in their contacts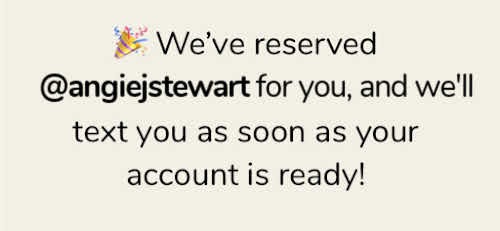 If, after a few hours, you haven't been let in by anyone, you will probably need an invitation.
Invitations are allocated to members from time to time based on activity. You can either ask around your friends, or post in other social media platforms to see who has one. Alternatively, I may have one for you (subject to availability – no guarantees!).  Click the button below to make a request:
I'm In – Now What??
Clubhouse will take you through some set up screens – do your best to follow them.
One of the most important steps is to follow me @angiejstewart, only joking, but please do so if you wish.  The important first step is to complete your Bio as this will encourage people to follow you – this is a networking platform afterall!  It doesn't have to be perfect from day one and can be edited at any time.  Let it envolve…
If you prefer to create your bio on a desktop device and then copy & paste into Clubhouse, there is a great free tool you can use: https://clubhousebio.xyz
Next, if you haven't done so in the initial set up, add your Instagram and Twitter links.  There are no messaging capabilities within Clubhouse, so you will often here people say 'DM' (direct message) me on Instagram.
Overview of Bio Screen
(click your picture top right of your screen to access it)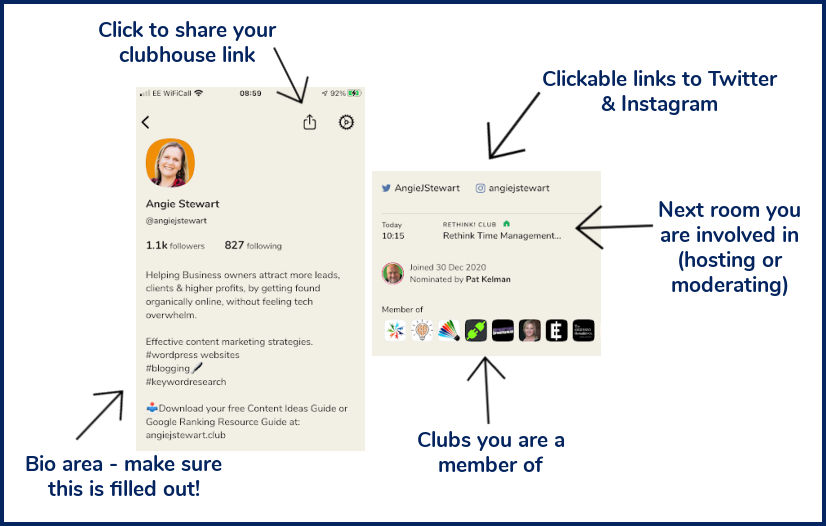 Getting Involved
When you enter a Clubhouse room you will usually see 3 sections (depending on how many people are in the room):
Top Section: The 'speaker stage'.
The host of the room will be in here along with any co-hosts and/or moderators, who will be identified by a green circle with an inner white star next to their name.
You have to be in this section if you want to speak. Members of the audience can be invited up onto the stage, or 'raise their hand' to request to join it.  NOTE: Not all rooms open the stage up. Also, if you move onto the stage, please mute your microphone unless you are speaking.
Middle Section : Followed by the speakers
As the section name implies, anyone who is followed by ANY of the speakers on stage will show in this section.  You are more likely to get invited up to the audience (in the bigger rooms) when you are in this section as you will stand out more.
Bottom Section : Others in the room
Everyone else!
For the first week after joining, your profile picture will have a 'party popper' symbol in the bottom left corner which lets everyone know you are new to Clubhouse; take advantage of this! Join some of the smaller rooms about subjects you are interested in and feel you are able to contribute to. Then have the courage to raise your hand and see if they bring you up.
When in a room, you can click on anyone's profile picture and 'check them out'. You get a sneak peak of their bio and have the option to open up and view their full profile. Towards at the top will be a button to 'follow' then if you wish AND if it is someone you are really keen to hear speak, you can click the 'bell' symbol to get notifications when they run a room.
I thinks that's enough to get you started – enjoy!
If you have found this overview useful, please leave a comment below and / or share it.