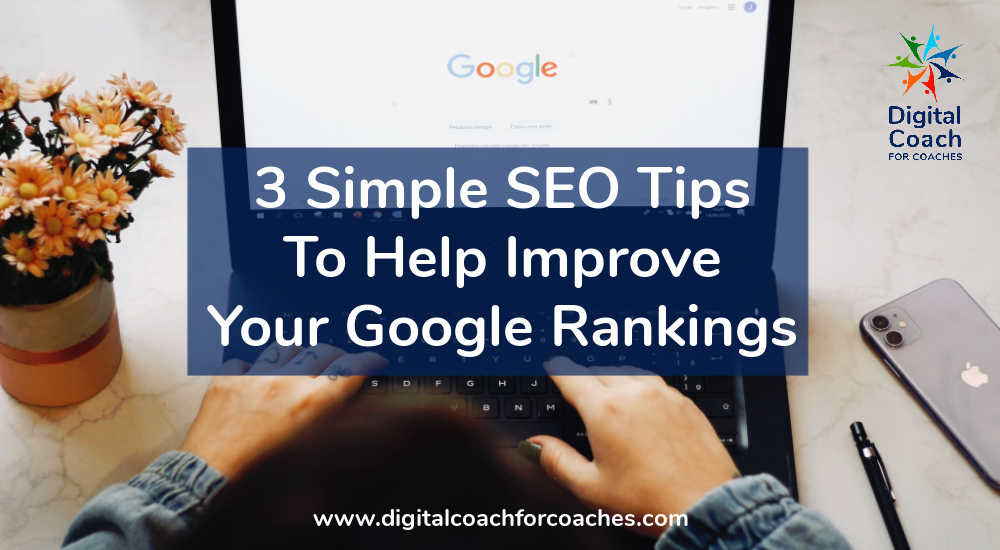 Getting organic traffic to your website can be a challenge. Here are 3 simple Search Engine Optimisation tips to help you improve your google rankings and drive more traffic to your website
1) Video
Google, in particular, loves blogs & websites that use video, especially if they are YouTube videos (afterall, YouTube is owned by google and adding their videos to your website creates greater exposure for YouTube too).
So how will adding video help your site?
It will improve your reader experience – nowadays more and more people enjoy absorbing information by video
It will increase the amount of time people spend on your site, and statistics show that the longer people are on your website, the higher it will rank.
Creating video for your website doesn't have to be difficult. It can be done via your phone or your computer.
You can take an existing blog post and turn it into a slide presentation, adding some images and a voice over or background music. You can make a screen capture recording via a platform like Zoom (which is free for 1 to 1 meetings, and self recording) tutorial. Or, you could speak to a client and see if the would be willing to do a video testimonial.
You can then use a tool like Zubtitle to add visual captions and repurpose it by rendering in different sizes to use natively on Social Media. Your first video is free, and if you want to then buy a monthly subscroption, use code: SHW516 to get your first month half price.
2) Update Your Content
This doesn't have to be as onerous as it sounds. Yes, it would be great to be adding brand new content every week but sometimes this isn't feasible.
The great thing is that just a small, simple change can be enough to show search engines that your website is being 'monitored'.  Consider:
Adding a couple of new sentences to a few blog posts
Change a few photos (ensure you update image and alt tags)
Review your primary keywords and consider adjusting your header / title tags
A number of tweaks every 2-3 months can produce some good results.
If you use the Yoast Duplicate Post plugin, there is even an option within wordpress posts now called 'Rewrite and Republish'.
3) Invite Feedback and Comments
Create content for your site that encourages reader participation, making it 'social'.
For example, at the end of a post simply tell them that you want to hear their views and get feedback. (Make sure that you have anti-spam settings in place so you approve any comments added)
Also, remember to add Facebook / Twitter share buttons – if your reader enjoys your content, this will make it easier for them to share it.
I hope you found these tips useful. Take a bit of time to apply them should see an improvement in your rankings. Oh, and feel free to share – scroll down to see the share buttons